Pipe Saddles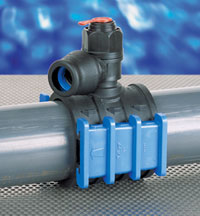 Saddles for taking service connections off mains pipe are available in plastic or metal. For polythene and PVC mains the Talbot plastic Self Tapping Ferrule Strap can be fitted without wrenches or tapping equipment and is made in tough corrosion resistant thermoplastics. The easily installed strap is complemented by the integral swivelling pushfit outlet connection.
For metallic pipes or where a more traditional type of saddle is preferred we offer a range of gunmetal bronze saddles with the option of self tapping capability when used on plastic pipes.
Contact us to discuss your requirements on 01 450 8046.